Freeze the fat away with the coolest fat reduction treatment available
CoolSculpting®  is a fat reduction technique designed to sculpt and contour your body, freezing away fat cells without surgery. The procedure uses controlled cooling (cryolipolysis) to freeze fat cells so they can be naturally flushed from your body, revealing a slimmer physique. Coolsculpting targets pockets of subcutaneous fat that cannot be removed by diet and exercise alone. The controlled cooling provides a precise way to remove excess fat. Elite Body and Laser Center offers the better results promise, meaning we guarantee the best results in town when you adhere to your customized treatment protocol. Book your coolsculpting treatment today!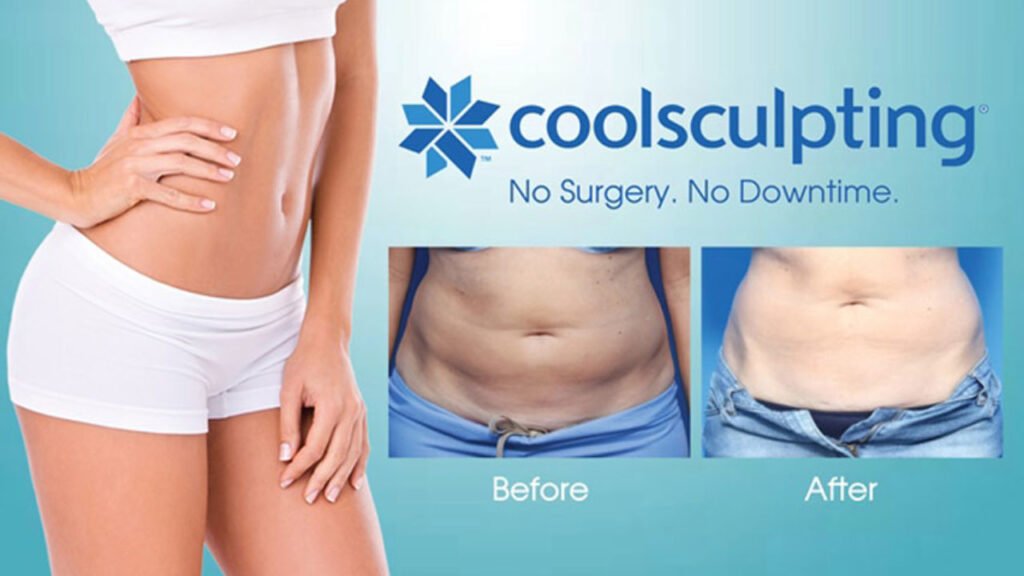 I was at my ideal body weight, but I just couldn't lose my baby weight. Coolsculpting at Elite changed the game for me! I feel confident in a bikini now. 
I never thought I would say this, but I have legs that look better than they did in college. THANKS ELITE!
The better results promise kickstarted my weight loss journey. Everyone at Elite checks in with you and gets excited for your treatments, which made me feel like I was working with a team to reach my goals, and not just a number. I love my coolsculpting results!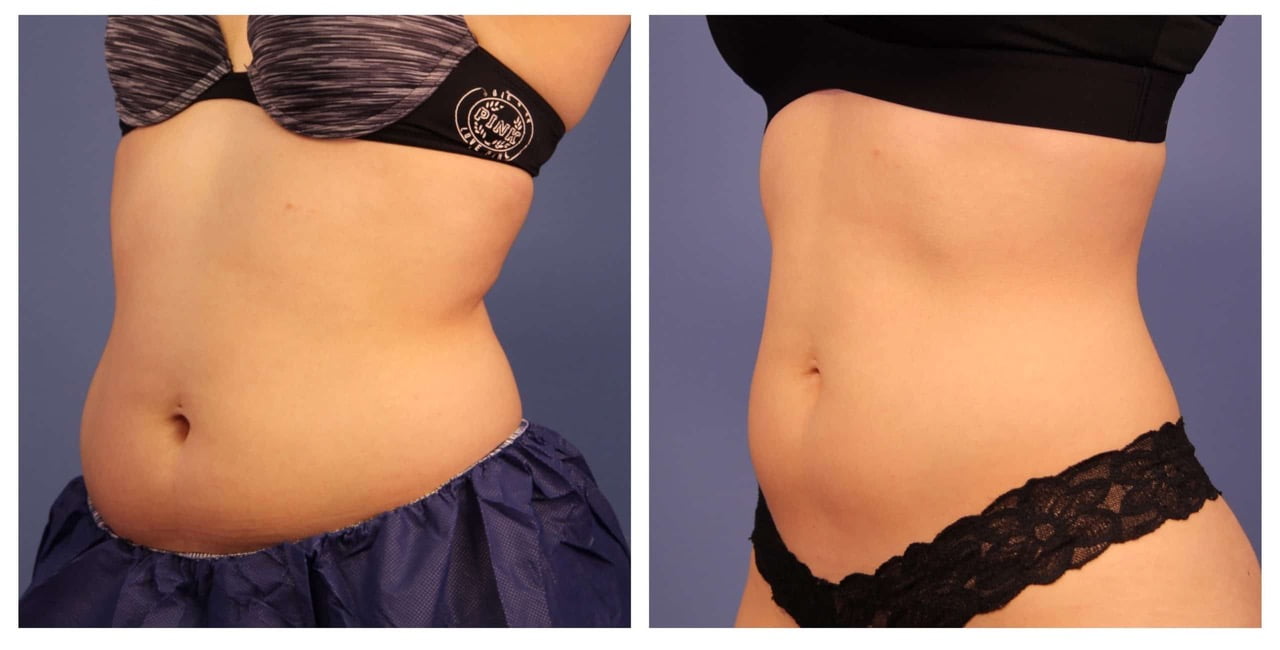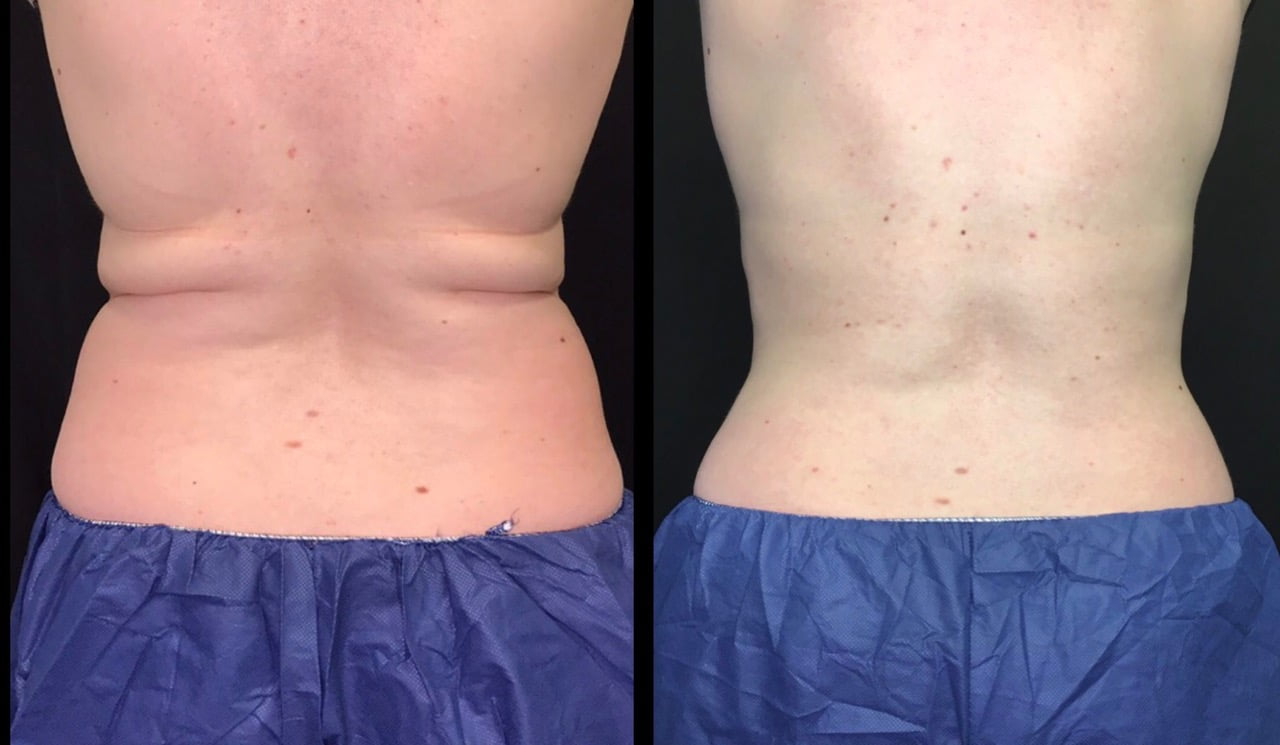 CoolSculpting® is FDA-cleared to treat visible fat bulges in 9 areas of the body. Some common side effects include temporary numbness, discomfort, and swelling. Freeze off stubborn fat today!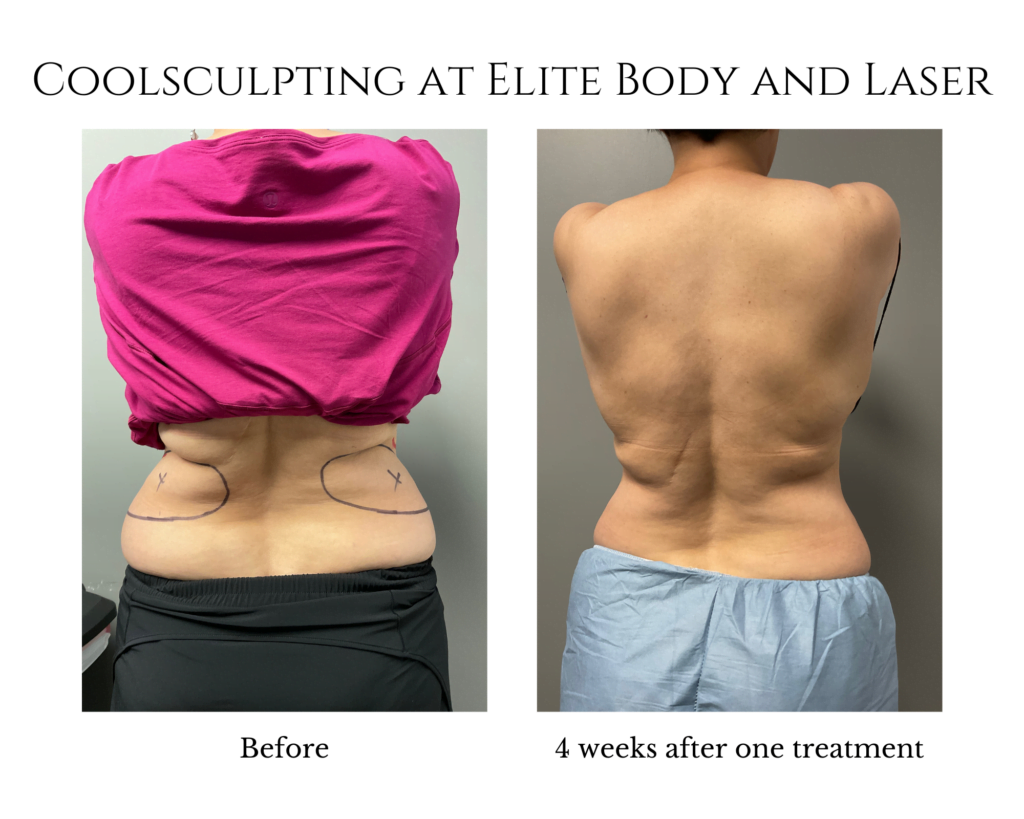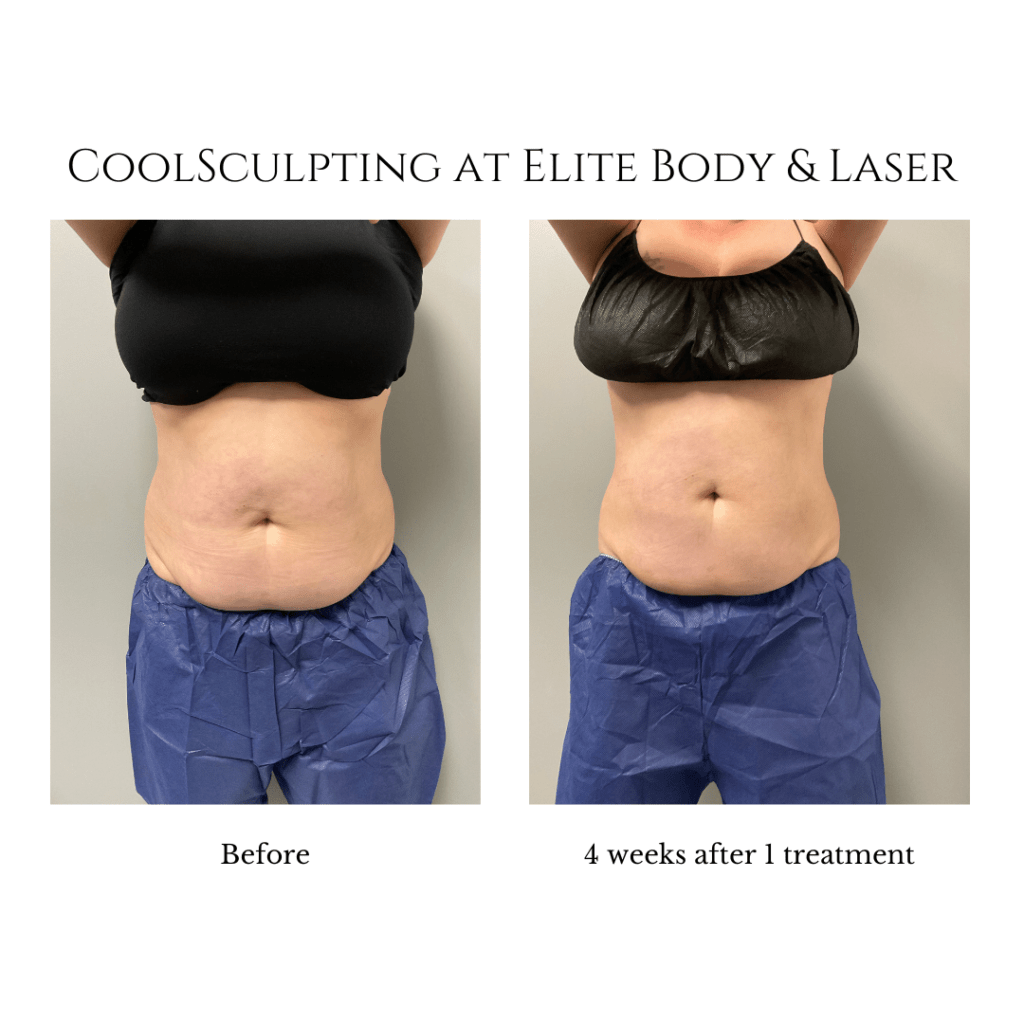 Coolsculpting FAQs
Am I a candidate?
An Ideal candidate for coolsculpting are those who maintain a healthy diet and within 20-30 pounds of their goal body weight. However, we can create a customized treatment plan for anyone! We offer a diet and exercise plan for those who are interested, and can help you achieve not only your ideal figure, but a healthy lifestyle as well. From back fat, to banana rolls, to stubborn belly fat, We have you covered! Freeze fat cells with a coolsculpting treatment today!
Can I do coolsculpting while I am still losing weight?
Yes! At Elite Body and Laser in Columbus OH, We offer customized diet and fitness plans that can enhance your results. Coolsculpting can be done while you are still trying to reach your goals to enhance them. Fat cells are frozen through coolsculpting and will enhance your fitness routine. Even if you are not at an ideal weight, we can still freeze your stubborn fat!
How Do I Get Started?
Book a free consultation with central Ohio's best medical spa, Elite Body & Laser! During your coolsculpting consultation, your provider will discuss the coolsculpting procedure, address your goals for your fat reduction treatment, and assess you for the procedure. Unlike weight loss surgery or plastic surgery, treatment can be completed the same day! 
What are the side effects?
This is a medical procedure, and with all medical procedures, you may see some side effects. Patients may experience some mild bruising, swelling, tenderness, numbness, skin sensitivity or redness post treatment. Coolsculpting is a non-invasive body contouring treatment that has less downtime than plastic surgery, so side effects usually resolve in a week in the treatment area. Most people are back to work the same day! As fat cells are destroyed, patients will notice slow decreases in size in the area treated. During your coolsculpting procedure, your provider will address any individual questions you may have regarding this procedure. Most patients return to work the same day, and the fat cells are gone for good.
What happens after the procedure?
We have all our patients return for 4 week follow ups. Dead fat cells are flushed through the lymphatic system slowly, so you will start to see results after 4 weeks. For patients who live an active lifestyle, results may be seen as soon as two weeks after this fat freezing procedure. You can resume normal activities immediately post treatment. After your procedure, your body naturally processes the dead cells. Dead cells are excreted through urine and the digestive tract, so post treatment it is imperative to stay hydrated. Coolsculpting is a non-invasive treatment for targeted fat reduction, so side effects are minimal. Most patients experience a short recovery time that is far less painful than a tummy tuck.
Can I treat multiple areas?
YES! From upper arm fat, to outer thighs, to flanks, abdomen, and even knee fat, we can treat multiple areas with this safe and effective treatment. Inner and outer thighs can even be treated the same day. We say if you can squeeze it, we can freeze it! Visible fat bulges are a thing of the past with coolsculpting. Call elite to receive a treatment plan tailored to your individual needs. Freezing fat cells is our favorite way to contour your body!
More questions? Book a FREE consultation and get an individualized treatment plan today!