Treatments for Erectile Dysfunction
See What people are saying about The EliteWave for Erectile Dysfunction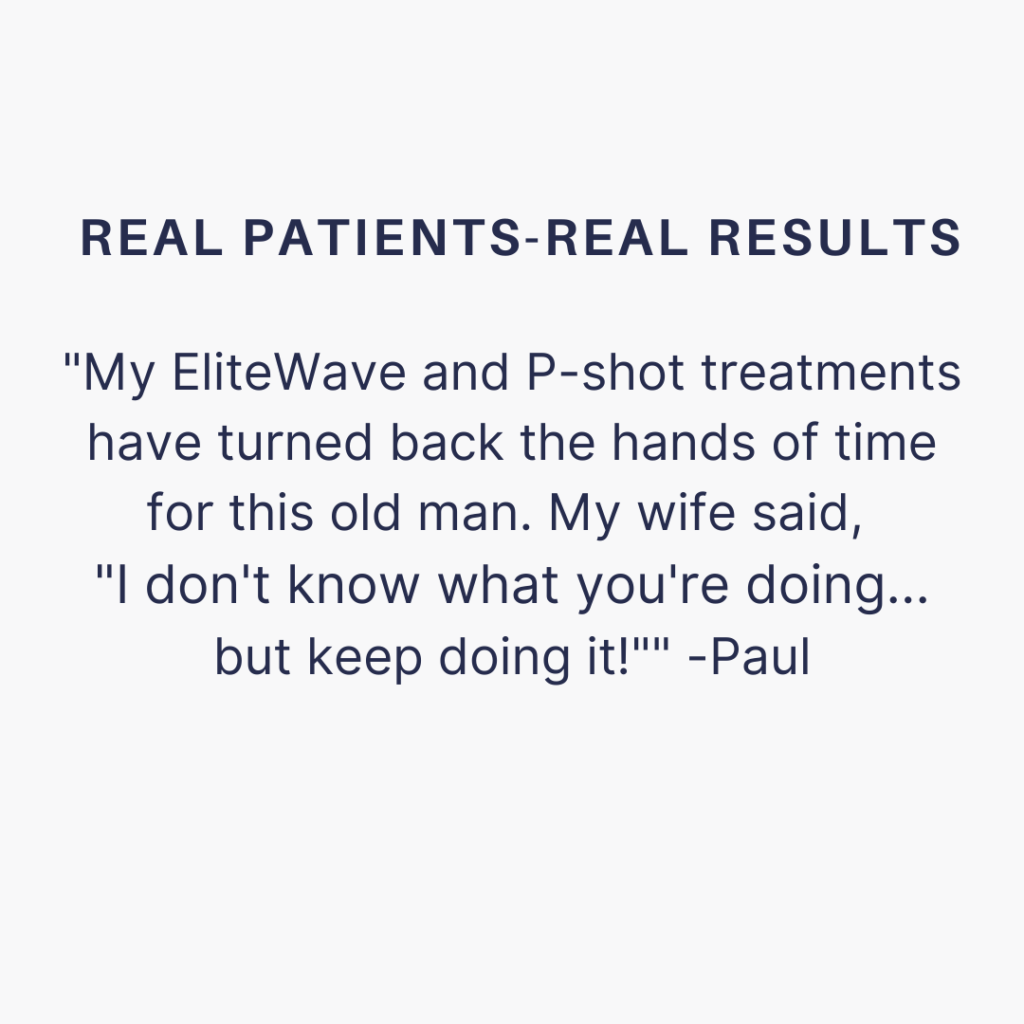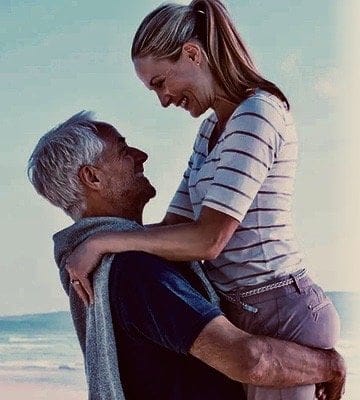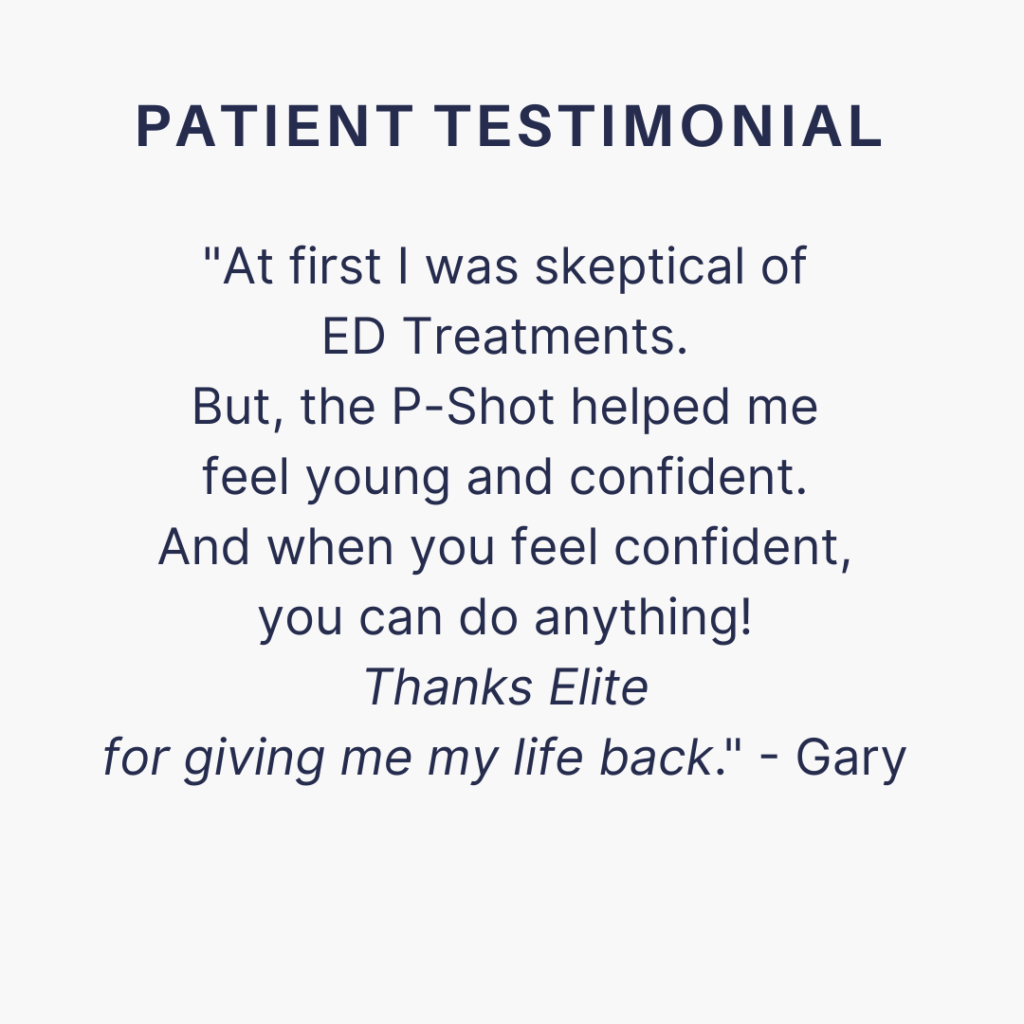 Discover The Revolutionary Non-Surgical Treatment
for Erectile Dysfunction & Peyronie's Disease
Discover the first step to becoming you again.
Dealing with men's sexual health problems is more common than you think. Many men struggle… Which is why at Elite we work to develop a treatment plan that is specific to your issues with sexual performance. We treat the root causes of erectile dysfunction and sexual performance issues, not just symptoms. Whether you have high blood pressure, diabetes, heart disease, depression or anxiety, Elite can offer an effective alternative treatment to treat the underlying cause of ED to meet your needs.
We have years of experience helping men in greater Columbus and across Central Ohio find the solutions to get back in the game with the life they want. Trust the men's health experts at Elite! In 30 minutes, you can get your life back. Reduce low self esteem and start feeling like you again.
A Breakthrough Solution For Erectile Dysfunction
Erectile dysfunction (ED) is a problem that has been reaching epidemic numbers, and ED affects not only men but also their partners; it affects the quality of both their sex life and their overall happiness. Erectile dysfunction, commonly referred to as ED, is the inability to achieve and sustain an erection suitable for sexual intercourse. It is estimated that about 1 in 10 adult males suffer from ED on a long-term basis. Premature ejaculation or difficulty maintaining an erection can decrease satisfactory sexual performance, and elite is here to help!
Extracorporeal Shockwave Therapy, uses high-frequency acoustical waves therapy that, when applied to the male genitals, breaks up the micro-plaque and encourages healing. The resulting improved blood flow helps any man, not only those with erectile dysfunction, to obtain stronger and more sustainable erections. It is completely drug-free, pain-free and surgery-free. If you are looking for a treatment that is not surgery and avoids the use of prescription drugs or a penile implant, Elite Wave may be for you! Let us do a full physical examination and assess you for risk factors, mental illness, and all other issues related to sexual dysfunction. Elite takes a comprehensive approach to treatment to treat the underlying causes of ED. Treat ED and reduce performance anxiety today!
Men with Erectile Dysfunction
Extrapcorporeal Shockwave Therapy, has proven to be a safe and effective alternative treatment to oral ED medications. In fact, it has proven to enhance sexual performance, with none of the harmful side effects! Increase blood flow and improve premature ejaculation with Elite Wave. Return to normal erectile function with Elite.
Men with Peyronie's Disease
Shockwave Therapy has been shown to be a drug-free, surgery-free way to breakdown the scar tissue and reduce the curvature of the penis typical of Peyronie's Disease.
How Does It Work?
Utilizing pulsed acoustic waves to open existing blood vessels and create new ones, this is a groundbreaking sexual health solution. These treatments use low-intensity shockwave therapy (an acoustic wave) that, when applied to the soft tissue of the male genitals, results in healing and increased blood flow. This protocol allows the penis to accept more blood, leading to better quality erections.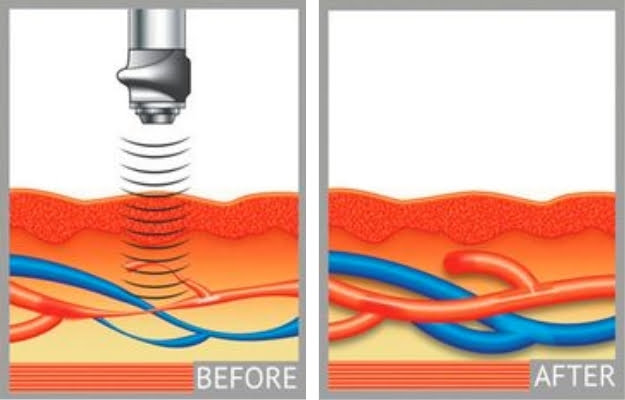 Storz Focused Shockwave Treatment For ED
At Elite we use use Storz Focused Shockwave for our ED treatment. We use focused shockwave devices instead of radial shockwave as their higher energy dense waves can be precisely delivered to an exact area up to 12cm under the skin. These precise waves can be used to accurately target and break down fatty plaques that may cause or exacerbate the symptoms of ED. If penile implants and injections are not what you are looking for, shockwave therapy might be right for you!
Unlike radial shockwaves, focused shockwaves can also promote the release of nitric oxide (NO), a vasodilator, meaning improves circulation by dilating blood vessels. Research has shown that nitric oxide likely plays an essential role in erections, and NO deficiency can be a factor in ED.
Not Sure if Shockwave Treatment is right for you?
There are many things that can cause erectile dysfunction. We offer blood tests as well as penile injections to treat all causes of ED. At Elite, we offer comprehensive treatment, as well as prescription medication if necessary. Our better results promise guarantees you will see the results you desire! Come see us at Elite Body and Laser!
How is Emsella effective in improving Men's Sexual Health?
Emsella treatment is clinically proven for pelvic floor muscle re-education.  Erectile Dysfunction ed can be a result of an underlying condition such as a weak pelvic floor or nerve damage. Hypertrophy of the pelvic muscles leads to a block of the outflow of blood. Emsella strengthens your pelvic floor muscles. Once these muscles are strengthened using the Emsella Chair, better erections may follow.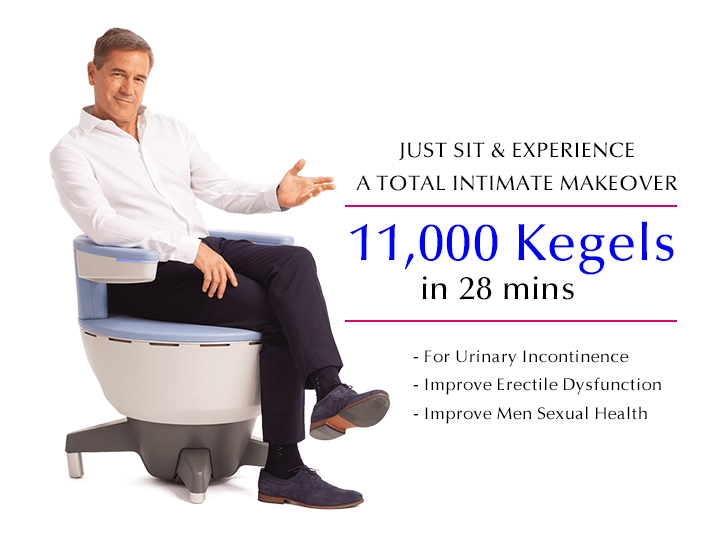 At Elite our multi-platform approach includes:
EliteWave
Emsella
Hormone Replacement Therapy
Prescription Protocols
And Penile Pumps (non-surgical)