Safe and Effective CoolSculpting in Columbus, Ohio
If you're looking for a way to address stubborn pockets of fat and achieve a slimmer, more toned appearance, CoolSculpting in Columbus, Ohio, eliminates fat cells without surgery, allowing you to return to your normal activities with little to no downtime. Our team at Elite Body and Laser is committed to providing you with a personalized experience and helping you achieve your desired body shape safely and effectively.
To learn more about how CoolSculpting can help you achieve a slimmer, more toned appearance, contact us today to schedule a consultation.
Cryolipolysis is a unique technology that uses controlled, intense cold temperature to target and freeze fat cells. With this non-invasive fat reduction treatment, fat is reduced from targeted areas of the body, like:
Abdomen

Arms or bra fat

Back

Double chin

Flank

Inner and outer thighs
Schedule A Consultation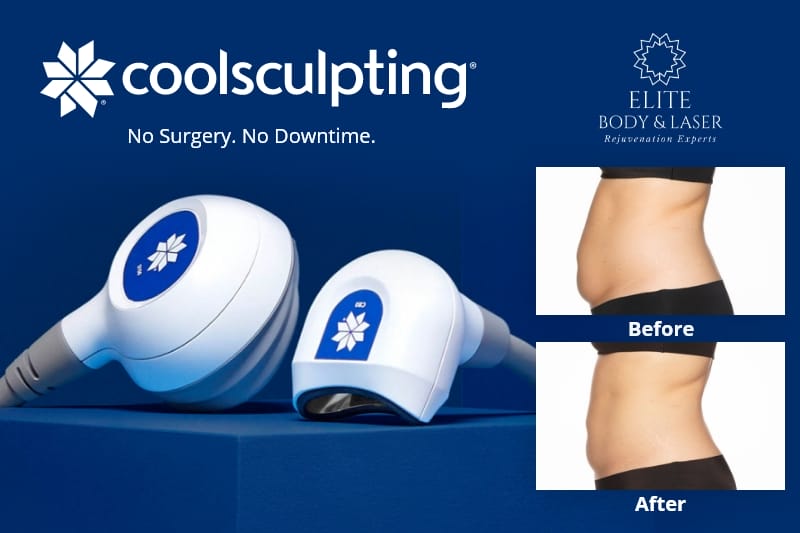 Through controlled cooling, fat cells become crystallized and eventually die when they freeze, allowing the body to flush treated fat cells out over time naturally. As a result, you'll have a slimmer, more contoured appearance.
Long-Lasting Results with Minimal Downtime
One of the primary benefits of CoolSculpting is the long-lasting results with minimal downtime. Most patients notice a visible reduction in fat after just one CoolSculpting treatment session, with optimal results achieved throughout several sessions.
Safe and Low-Risk: CoolSculpting Side Effects
CoolSculpting is a safe and low-risk procedure that has been FDA-cleared for fat reduction in multiple areas of the body. Some common side effects may include temporary numbness, discomfort, or swelling in the treatment area, but these are typically mild and resolve on their own within a few days to weeks. 
At Elite Body and Laser, our skilled professionals take every precaution to ensure our patients have a safe and comfortable CoolSculpting procedure. We also closely monitor our patients throughout treatment to ensure their safety and satisfaction.
CoolSculpting vs Liposuction: Which is the Better Fat Reduction Technique?
Unlike liposuction, CoolSculpting does not require any surgery to remove fat. As a result, CoolSculpting can be performed in a relatively brief amount of time with minimal recovery time.
Compared to other fat reduction techniques like liposuction, CoolSculpting offers several advantages. Here's how the two compare:
Non-invasive vs invasive:

CoolSculpting is a non-invasive treatment that does not require incisions or surgery. Liposuction is an invasive procedure involving making incisions and using a cannula to suction out stubborn fat.
Downtime:

CoolSculpting requires little to no downtime, allowing you to return to your daily activities immediately after treatment. In contrast, liposuction typically requires several days to weeks of downtime for recovery.
Pain and discomfort: CoolSculpting is generally well-tolerated and may cause mild discomfort or numbness in the treatment area, whereas liposuction can cause more significant pain and discomfort.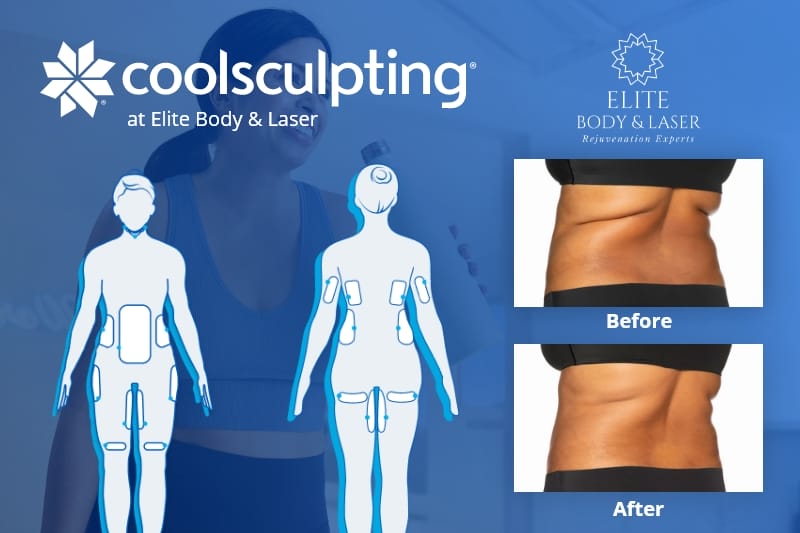 Cost of Columbus CoolSculpting Treatments
The average cost for CoolSculpting in Columbus, OH, can range from $700 to $3,000 per treatment session. However, the cost will vary based on several factors, including the number of treatments needed and the treatment areas. Generally, smaller treatment areas like the chin or arms may cost less than larger areas like the abdomen or thighs. 
While the cost of CoolSculpting may seem high initially, it's essential to consider the long-term benefits and cost-effectiveness of the treatment. At Elite Body and Laser, we work with our patients to develop a personalized treatment plan that fits their needs and budget.
Schedule Your Consultation
Is CoolSculpting Right for You?
While CoolSculpting stimulates collagen production and an effective way to remove visible fat bulges, it's important to remember the following:
CoolSculpting is not a weight loss technique and should not be a substitute for a healthy diet and exercise routine.
CoolSculpting targets unwanted fat that won't go away with diet and exercise.
The best candidates for CoolSculpting are patients who are at or close to their target weight.
A consultation with a qualified professional can help determine if CoolSculpting is the right option for your needs.
At Elite Body and Laser, we offer personalized CoolSculpting consultations to help you determine if this fat-reduction technique is right for you. During your consultation, our highly-trained professionals will assess your medical history, discuss your goals and expectations, and develop a customized treatment plan that fits your needs.
Achieve Your Desired Body Shape with Safe and Effective CoolSculpting in Columbus, OH!
At Elite Body and Laser, we're committed to helping our patients achieve their desired body shape in a safe, effective, and personalized way. Our team of highly-trained professionals, led by Board Certified Dermatologist, Dr. Christy Lorton MD, offers a range of body contouring services, including CoolSculpting, Emtone, Emsculpt NEO, TruFlex, and Sculpsure.
To learn more about CoolSculpting and our other body contouring services, get in touch with us today! Our team is always here to assist you in achieving your desired body shape and boosting your confidence.
I was at my ideal body weight, but I just couldn't lose my baby weight. Coolsculpting at Elite changed the game for me! I feel confident in a bikini now.
I never thought I would say this, but I have legs that look better than they did in college. THANKS ELITE!
The better results promise kickstarted my weight loss journey. Everyone at Elite checks in with you and gets excited for your treatments, which made me feel like I was working with a team to reach my goals, and not just a number. I love my coolsculpting results!
Frequently Asked Questions