WHAT IS RESTYLANE KYSSE AND HOW DOES IT WORK?
Restylane Kysse is the latest groundbreaking dermal filler for long-lasting lip augmentation. Following more than a year of clinical trials in which Restylane Kysse outdid other comparable products in both patient satisfaction and product efficacy, the FDA greenlighted it for patient use.  Restylane Kysse joins a long list of proven Restylane products, Kysse being their first specifically tailored to long-lasting lip augmentation.
HOW DOES RESTYLANE KYSSE WORK?
Restylane Kysse uses a concentrated form of a substance already naturally found within the body: Hyaluronic acid. It infuses the lips with more moisture, volume, and elasticity and thus results in beautifully smooth rejuvenated lips.
IS THERE ANY DOWNTIME ASSOCIATED WITH RESTYLANE KYSSE?
The most commonly observed side effects are swelling, tenderness, bruising, pain, and redness at the injection site. These are typically mild to moderate in severity and usually resolve within 7 days after treatment.  It takes up to 2 weeks to see final results.
HOW LONG DOES RESTYLANE KYSSE LAST?
Clinical results from multiple studies show that treatment with Restylane Kysse can provide added volume in the lips and improve the appearance of lines above the mouth, with results lasting for up to 11 months after the last injection.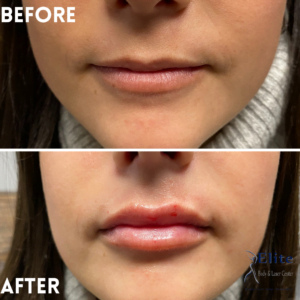 Interested in getting lips with natural-looking volume and Kysse-able softness?  Contact us today to schedule an appointment (614) 334-4944.