Can you imagine a day where you no longer need to shave, wax or pluck all of that unwanted body hair? Laser hair removal is a great option for patients seeking an easier and less irritating/painful method of removal. Elite Body and Laser Center in Columbus, Ohio utilizes Cynosure Icon to deliver optimum results for your hair removal needs.
So how does it work?
Our Icon Laser is moved across the area, focusing on individual hair follicles. The duration of your treatment will vary depending on the size and number of treatment areas. The number of treatment sessions you will require to achieve optimal results will be determined by several factors, including your skin type, hair density and natural hair growth cycle. Additionally, laser hair removal only works on hairs that are dark, and not on white, blonde or red hairs.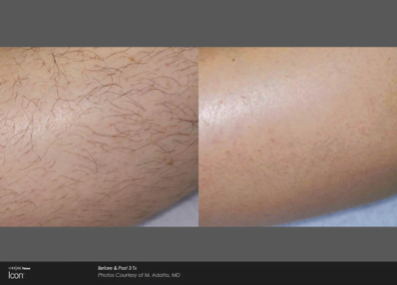 What areas can be treated?
– Face
– Underarms
– Arms
– Chest
– Back
– Bikini line
– Legs
-Wherever you have unwanted hair!
What Results Can I Expect From Laser Hair Removal?
While laser hair removal treatments are quick, it will take some time for the results of your treatment sessions to become apparent. Over the weeks following your hair removal appointment, your treated hair will gradually shed. After completing your recommended course of treatment sessions, patients can remain smooth and hair-free for months or even years.
How Much Does Laser Hair Removal Cost?
Currently at Elite Body and Laser, you can save 60% OFF Laser Hair Removal until the end of December 2020!
Call 614-334-4944 today to schedule your appointment.